Daily Devotional Reading
Inspiration for Living Above the Fray by Pastor Jimmy Pruitt
Monday March 20th
As you begin a new week, spend a few moments with this beautiful psalm of David. Make this your prayer for the coming week which will bring opportunities for growth, development, and sharpening. He will show you the way and you will find great joy in His presence. - Pastor Jimmy
Sunday March 19th
Do you desire peace of mind and heart? Trusting in God and fixing your thoughts on Him produces the whole, complete, and total peace you seek. Rest in this promise and watch what God will do. - Pastor Jimmy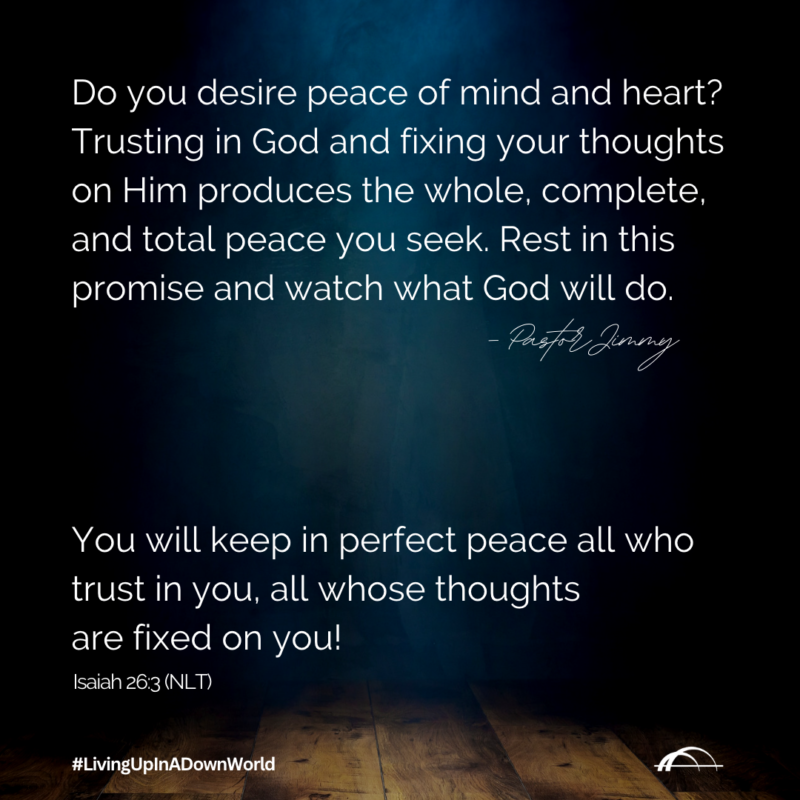 Saturday March 18th
All it takes is a one taste to know this is going to bring joy, wonder, and delight. Take the first step toward Him this morning, taste and see that the Lord is good. Have an amazing TGiS! - Pastor Jimmy
Friday March 17th
More sound counsel from James that we, as followers of Jesus, should employ in our daily interactions on both small and larger issues. Can you imagine what this world would be like if the news media, politicians, entertainment industry, and everyone actually did this?
Quick to listen - engage with your ears and heart first.
Slow to speak - take a step back, process what is being said, and don't spend the time formulating your next point.
Slow to get angry - take two steps back so that you can respond and not react.
It is interesting that the one thing James says to be quick to do is to simply listen. How can you apply this biblical counsel to all that you are dealing with in your life today? Ask the Holy Spirit, your Helper, to help you engage James' instruction as you navigate your day. - Pastor Jimmy
Thursday March 16th
It was a dramatic showdown, the prophet prayed and called down fire from heaven. Instead of a victory lap, Elijah's next move was to run across a desert in terror, praying for God to take his life.
Even so, Elijah was considered a righteous man who's prayers were answered with astonishing results... and he was as human as you and I.
Just like you, Elijah was "divinely human." In Christ, you are living in the tension between natural and spiritual, heaven and earth.
One minute you are exhibiting divine attributes that reveal your true spiritual nature, the next you are fully human and in need of much help and grace.
Today, embrace the fulness of who you are as a divinely human child of God. Step into this day with your buckets filled, overflowing with His Spirit, and making beautiful messes everywhere you go. - Pastor Jimmy
Wednesday March 15th
There are some verses that seem to hide in the sheer magnitude of scriptures in the Bible. In fact, there are over 31,000 verses in the Old and New Testaments combined and yet, the Holy Spirit can direct you to the exact verse you need just when you need it.
As I read this verse early in the morning, my first response was gratitude. So, today I am choosing gratitude. Read this verse slowly, taking time to let each word and phrase sink in. Kindness and grace stood out for me. What words speak to you today? - Pastor Jimmy
Monday March 13th
It's Monday and Spring is in the air. You will encounter challenges and opportunities. You will be required to make decisions, most small, some significant. God's encouragement to young Joshua can be your encouragement as well.
Moses' leadership baton had been passed on to Joshua. It was the beginning of a new chapter on the journey to freedom for his people. No pressure, right? God wanted Joshua to know it was not all on him. God was with him and would walk beside him every step of the way.
God wants you to know whatever comes your way this week, he is with you and will not abandon or leave you to yourself. You are not alone. He's got this, better yet, he's got you. Rest in the truth that you do not have to be afraid, for the Lord is with you wherever you go. - Pastor Jimmy